---
[main]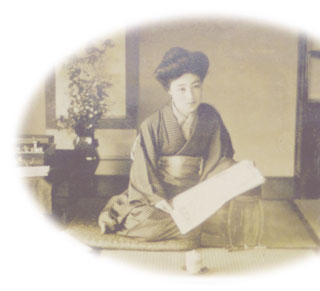 This is the former home of Sadayakko Kawakami, who made her name as Japan's first actress, and Momosuke Fukuzawa, once anointed the "king of electric power". When it was first built, the house was located in Higashi-Futaba-cho at the northern tip of the Cultural Path district. Set in an approximately 6,000m2 section, the house blends Japanese and Western styles. Such was its opulence and the radicalness of the design that it became known as the "Futaba Palace", and was a popular haunt for political and financial bigwigs as well as cultural movers and shakers.
It is said that at the time, Fukuzawa, who had taken up a position as director of Nagoya Electricity (Nagoya Dento) Co., Ltd. at the behest of Seki Yada, a senior student of his from his days at Keio University, set up a branch in Nagoya to promote his hydroelectric power generation business on the Kiso River and invited Kawakami to be a partner in the project.
The building was designed by Amerikaya, a residential specialist known for its revolutionary designs, and the interior was stocked with electrical fittings that were breathtaking at the time. Not to be outdone, though, Kawakami's tastes are discernable throughout the building.
Records from the time indicate that one approached the building along a gravel driveway, and negotiated a roundabout before reaching the carriage porch. Pines and other trees stood guard while weeping cherry trees and firs adorned a grassed garden, which also boasted an electricity-powered fountain and search lights.
The grand parlor, with its circularly arranged sofas, was bathed in a veritable kaleidoscope of light from stained glass windows. It was here that Kawakami flitted about organizing refreshments and banquets for the legions of guests that came by everyday-as if she wasn't busy enough as proprietor of Kawakami Silk (Kawakami Kenpu) Co., Ltd. Kawakami was also known to accompany Fukuzawa to the dam construction site in Kiso, a three-hour train ride. Although their life was busy, it was certainly satisfying.
Fukuzawa would later become sickly and return to Tokyo, and Sadayakko also spent increasingly more time in the capital as an instructor at the Kawakami Children's Theatrical Company. We can but imagine that the couple's memories of their time in Nagoya were cherished in their hearts for the rest of their days.
The house was relocated to its current location in Shumoku-cho and work begun on restoration in February 2000. Completed five years later, the newly-named Cultural Path Futaba Museum (Former Residence of Sadayakko Kawakami) was designated by the government as a registered tangible cultural property.